1-PASS Prep™- User Guide
Before You Begin
Purpose
The purpose of this Guide is to provide use instructions for 1-PASS Prep (1PP).
On-Prem Versus Web-Based
1PP is available as an on-prem product, which can be installed and run in different environments such as Linux and Windows®. 1PP is also available as a web-version (located in usa.trueaddress.com). The 1-PP web-based parameter builder is intended to provide a 'quick start' for lower-volume users. Contact Window Book's Client Services group for more information on the web version of 1PP.
Requirements
The functionality described in this Guide requires the installation/registration of 1-PASS Prep version 1.1.2.4 (or newer).
Installation instructions, along with system requirements, are provided in the 1-PASS Prep™OnPrem - Windows Installation & Setup Guide.
For a full set of general Window Book system requirements, refer to the .
Product Updates
Window Book will release intermittent software updates of 1PP in the event enhancements or bug fixes occur. The installation files and data will be provided to your Company, as they are available. Labeling list files installer will be provided no later than the 5th of the month; it will include three months of files. The procedure to update the data is specific to the type of system 1PP is installed on.
Product Version Information
The method for identifying the version of 1PP installed on the server or computer differs between operating systems.
Windows Operating System
To discover the version of 1PP that is installed on a computer or server running Windows, hover the mouse over the Presort.exe application file stored in the main '1PP' program directory.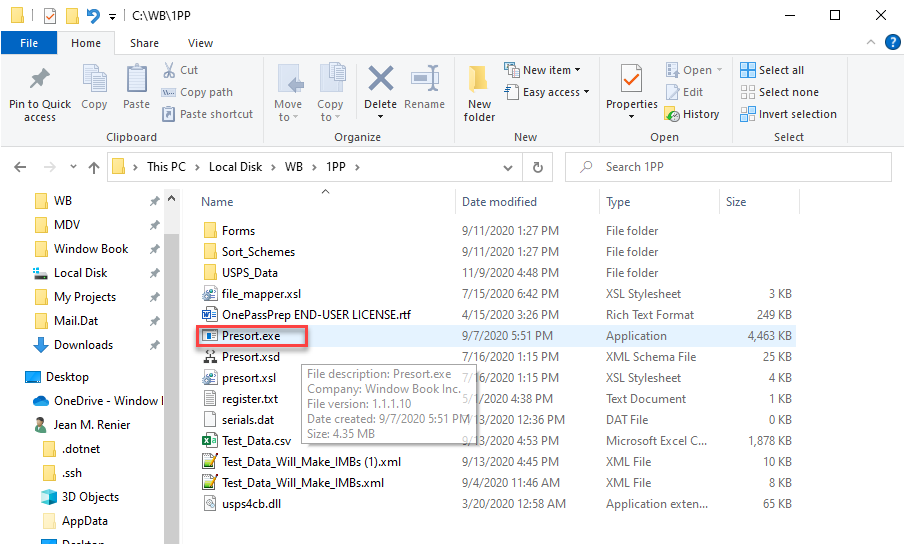 Linux Operating System
To discover the version of 1PP that is installed on a server running Linux, refer to the 'version.txt' file stored in the main '1PP' directory.
Continue Using Software
See also